In January 2023, Forest Forces becomes part of the Sinchi Foundation, resulting in their founder Tim Boekhout van Solinge being appointed our new Head of Forest Crime Prevention.
"We're delighted to welcome Tim and the Forest Forces team to Sinchi. Having worked with Tim over the last few years and operating in the same region of the Amazon, this feels like a natural step to bring our networks and resources together, so we make even more collective impact. We feel very excited about the future and already have significant expansion plans for 2023, including the creation of 6 new Forest Forces in the Tapajos and a number of other supporting initiatives."

Tom Wheeler, Executive Director, Sinchi
---
Tim Boekhout van Solinge MA PhD, is a criminologist specialised in forest and wildlife crime, illegal markets and rule of law. He is a UN consultant and a research fellow at Department of Criminology, Erasmus School of Law, Erasmus University Rotterdam.
In 2016, Tim dedicated himself mainly to the preservation of tropical rainforest by founding the Forest Forces NGO, that focused on expanding the system of local forest monitoring with GPS cameras which he started in 2014. His role will be to lead 'on the ground' actions and activities relating to coordinating access to justice strategies with Indigenous leaders and law enforcement.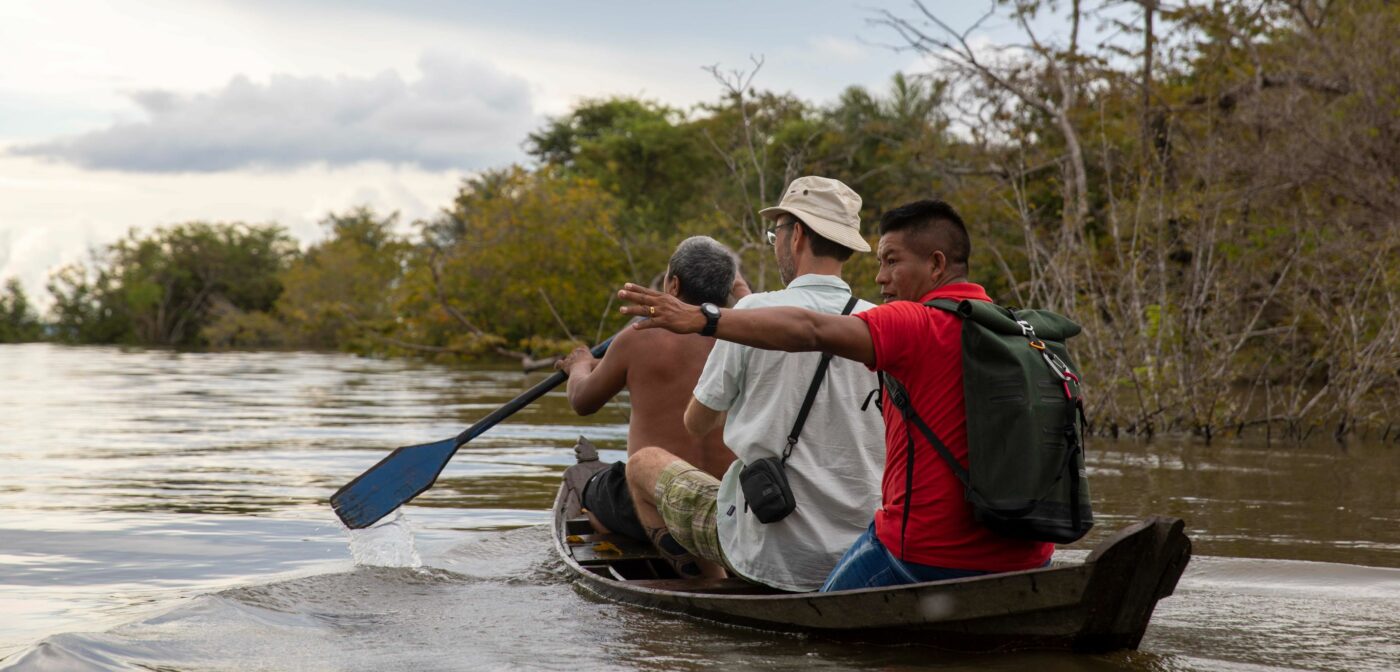 Background
The idea of GPS supported community-based forest monitoring and forest crime prevention was born during a scientific green criminology project in Brazil (2010-2016), funded by the Dutch NWO-WOTRO Science for Global Development Program. It was set up in collaboration with Brazilian universities and NGOs to identify and reduce social and environmental harm, including crime. The development strategy focused on access to justice and improving the rule of law.
In 2014, they first equipped various traditional communities that live near deforestation hotspots with water proof GPS cameras, solar chargers and power bank. It allows them to take pictures of illegal forest activities. Shortly after the Forest Forces NGO was formed.
Their first major success took place in 2016. A GPS-camera allowed a twelve-member surveillance team of Maró Indigenous Territory to collect GPS-evidence of illegal activities within their territory. The chief, Odair "Dadá" Borari, brought pictures with GPS-coordinates to the authorities in Santarém, Pará. The pictures showed stocks of logs and wooden buildings of timber companies with GPS coordinates suggesting their location inside Maró Indigenous Territory. This led to a joint police operation by Brazil's federal police and environmental police. A few days later, they initiated a helicopter surveillance to confirm the spot and hence the illegality. Eight Forest Management Plans were cancelled and several timber companies were expelled from Maró Indigenous Territory, with impacts for long-term deterrence of illegal logging. This project shows how local forest protection, even in remote areas without electricity and telephone, can be carried out effectively and inexpensively. This model can be replicated in other areas, especially in Indigenous and other protected areas with GPS borders.
Activities
The aim of Forest Forces is to protect nature, the tropical rainforests, its indigenous inhabitants and other traditional or tribal communities living in it. The foundation acts upon the devastating effect of deforestation and its growing threats.
Protected land is only safe when the laws protecting the land are enforced. In reality, illegal activities are omnipresent and difficult to counter. However, we support efforts protecting the land in three ways: