Indigenous Movem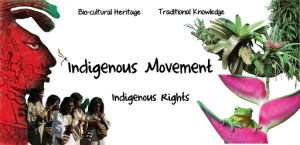 ent consults and informs from an Indigenous perspective, which often differs from a western worldview. We aim to foster the creation of new solutions and alternatives to global Indigenous issues, including sustainable economic development and climate change, always with respect to nature, dignity, and collective rights. 
Our vision is to create a world in which the rights, traditions, languages and culture of Indigenous Peoples are respected and given the chance of transcending into future generations. In this worldview, Indigenous Peoples work in solidarity towards a worldwide social transformation; and non-indigenous people are aware of the current Indigenous issues as well as the measures taken in order to mitigate problems and find solutions.
We protect Cultural and Biological diversity and to highlight the worldwide importance of implementing a sustainable development for Indigenous Peoples.
We provide information on how to help to improve situations for Indigenous Peoples, often bringing together sister organizations for trainings, lectures, and film screenings. Furthermore, we take actions requested by the indigenous peoples themselves, including:
Political lobbying, including petitions and letter writing
Cultural activities
Information stands
Logistic support
Publication of articles