Free Land Camp 2019 (24-27 april) is a historical gathering of 3,000 indigenous from all over Brasil coming together in the capital of Brasilia to demand their (land) rights. Indigenous have been exposed to invasion of their lands to make way for large scale depletion of their reserves for monetary gain for many centuries, but authorities still haven't learnt anything from past events. With the inauguration of Jair Bolsonaro in january 2019, the government is literally giving away big parts of the Amazon and indigenous reserves and/or killing those who resist leaving their centuries old habitats; whereas its their basic human right to stay on these grounds and protest for their freedom. During this protest, photographer and member of the Xakriabá tribe Edgar Corrêa Kanaykõ is keeping all of us updated about the events there.
One of the biggest challenges for Edgar and his people (and many alike) has been to gather 70 indigenous elders and youngsters from deep in the Amazon basin to the camp in political capital Brasilia, which demands a lot of logistics and the payment for transport. With the help of NGO's such as ours, they have been able to arrange for buses there. Right now this is the most direct way, we feel, we can support the Brazilian environmental and indigenous movement until further actions have been specified, either from within the United Nations' member states or through grassroots joint forces.
Yesterday was the 3rd day of ATL (Free Land Camp), where thousands of indigenous peoples marched from the camp to the Brazilian Ministry of Justice and the Ministry of Health to demand land rights and access to public services. A group led the protest with a blood stained banner/ flag of Brazil which read 'not one more drop of indigenous blood', referring to thousands of years of marginalization and killing of natives.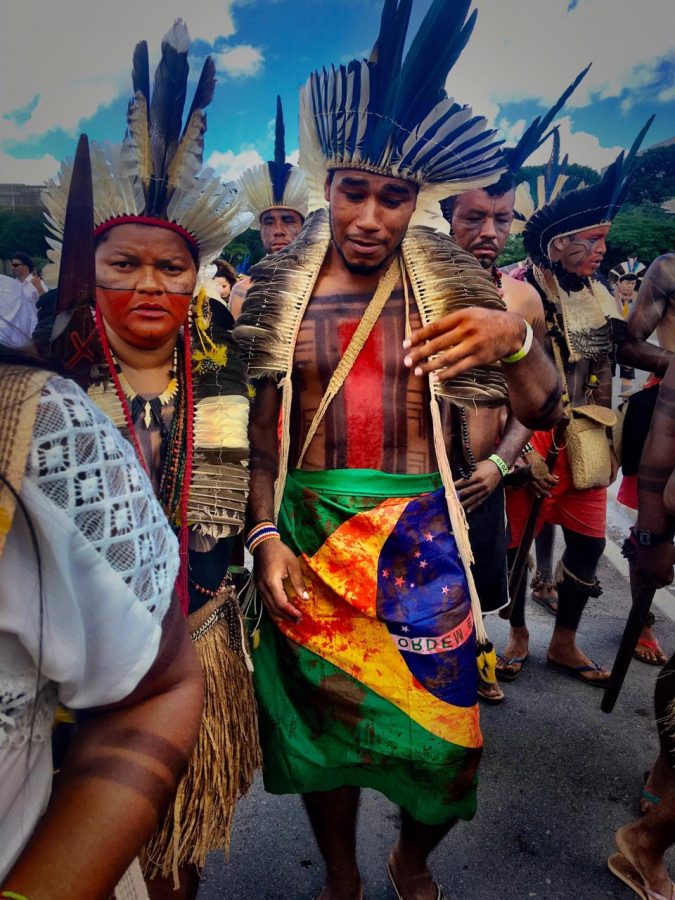 The group protested against Bolsonaro's decision to eliminate the Special Secretary for Indigenous Health (SESAI) that previously oversaw the healthcare issues for indigenous people. Local councils are now responsible for providing healthcare access to native communities. Outside the Ministry of Justice, protesters demanded the reversal of the Provisional Measure 870, which dismantled the National Foundation for the Indigenous (FUNAI), the government body previously responsible for protecting native groups. Under the measure, some of FUNAI's responsibilities were moved to the Ministry of Agriculture and the Human Rights Office.
The crowd was met by police officers, who had blocked off the building's entrance. Dozens of demonstrators jumped into the lake around the building, dancing and chanting with their children and elderly. Inside, a delegation met with the chief of staff for the minister to demand FUNAI to be reinstated in full by the cabinet.
Many thanks go out to photographer and member of Xakriabá tribe Edgar Corrêa Kanaykõ for keeping us updated.
If you want to support or stay updated, please check out the website of APIB(Articulação dos Povos Indígenas do Brasil)
Photo copyright: Edgar Corrêa Kanaykõ