" For me uaajeerneq is a deeply personal and cultural challenge to find true expressions of oneself in an effort to decolonize. It is a fearsome, sexy clown act that comes from precolonial and postcolonial Greenland – my motherland."
Laakkuluk Williamson Bathory is an established multi-disciplinary artist based in Iqaluit, Nunavut (Canada) whose practice centres on uaajeerneq (Greenlandic mask dance) and also includes acting, curating, drum-dancing, music and writing. Through her artistic work, Williamson Bathory advocates for gender equality in creative spaces, decolonizing museum spaces and supporting Indigenous political voices. She is also the Artistic Director of Qaggiavuut Society for Nunavut Performing Arts.
As an uaajeerneq (Greenlandic mask dancer), Williamson Bathory performs highly stylized dances that address four themes including: humility, sex, fear and humour. Her performances function as education tools for children and adults alike and examine the limits of human experience and the transcendence of body. Her video and performance work has also been featured in numerous exhibitions including the nationally touring group exhibition #callresponse. Williamson-Bathory is also a frequent collaborator of Tanya Tagaq, performing uaajeerneq in the latter's Retribution music video in 2016.
Williamson Bathory is also a prolific writer and her poetry has been included in several publications including the spring 2016 issue of the Inuit Art Quarterly on climate which featured Tallurutiup Tariunga. Recently, Williamson Bathory worked with a team of Inuit curators at the Art Gallery of Ontario, Toronto on the exhibition Tunirrusiangit: Kenojuak Ashevak and Tim Pitsiulak.
" Because of the great waves of colonization that Inuit have faced over many years, we have had to hang on to our stories: hang on to our arts and to our ways of hunting. Those are the ways in which we have remained as Inuit people. Despite all the different institutions that have been imposed upon us, it is the arts and hunting that have allowed us to continue being Inuit and speak our language."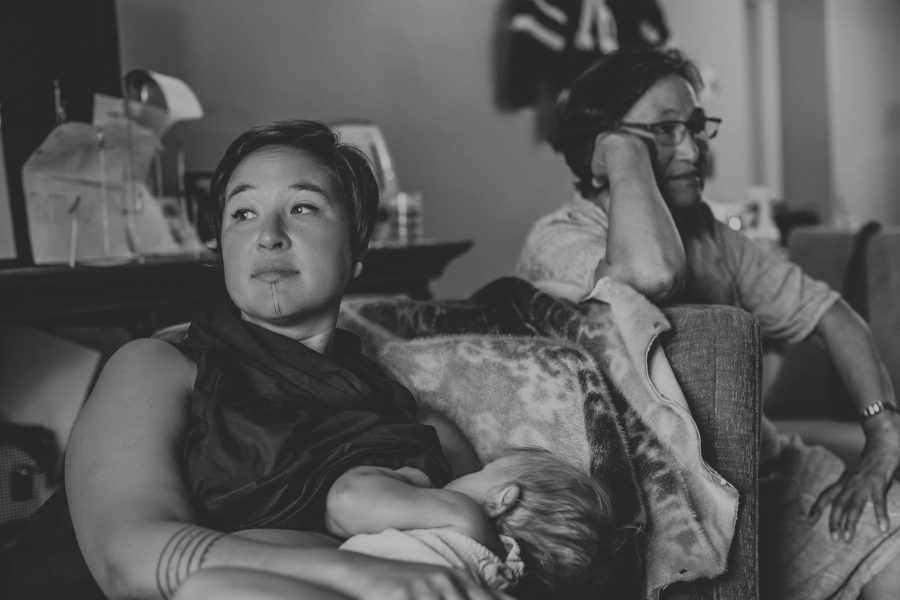 Friend and colleague Evalyn Parry wrote about Laakkuluk: "This is a woman for whom life is art and art is life and the personal is political. Parenting, language, family, time spent on the land, connecting to community, creating performances: there's no separation. It's all intimately and necessarily connected."
Laakkuluk's visions on art and the human experience resonated strongly with the jury members of the inaugural Sinchi Indigenous Artist Awards (SIAA 2020). Maori multi-instrumentalist and SIAA 2020 judge Jerome Kavanagh said about her: "I was immediately drawn to the work of Laakkuluk, I could feel the spirit of her ancestors through her work very strongly and I was reminded of the essence of my own ancestors."
With this award and the prize money of 2000 euros (3,050 Canadian dollars), Laakkuluk is investing in a new artistic piece, based on a dream she had a while ago. Together with her collaborators, Laakkuluk intends on creating a piece about overday portraits of Inuit women and their hand gestures, accompanied by the bird calls of 10 arctic birds as immaculately imitated by a good friend and united into a short performance and video artwork.
" For me uaajeerneq is a deeply personal and cultural challenge to find true expressions of oneself in an effort to decolonize. It is a fearsome, sexy clown act that comes from precolonial and postcolonial Greenland – my motherland. It is an idiosyncratic study of boundaries for both performers and audiences, a celebration of body and flesh, a loving and respectful exploration of humanity and ferocious call to action. It is a performance that was handed down to me from my mother and other Inuit activist artists from Greenland's movement to self government in the 1970s. Uaajeerneq is the cornerstone of my artistic practise – it gives me fodder to expand on, as well as confidence as an Inuk woman."
https://www.qaggiavuut.ca/en/artist/laakkuluk-williamson-bathory
Follow Laakkuluk on